Photo credit: Leslie the Pony Lion and Amy. Photo © Sara Muskulus
FirePony Creative Society Board of Directors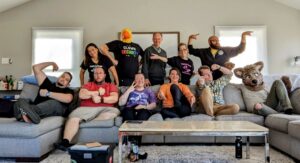 Your 2023 FirePony Board of Directors.
L-R Bucky, Ursula, Hatter, Karnak, Lotus, Dave, Aye, Smiles, Wax, Whatever, m4.
Not pictured Mr. No/Know and Peanut
As with any nonprofit oversight body, the function of the Board is to set policy and direction for the organization which are consistent with federal, state, and local laws, and to see that these policies are implemented and that all legal responsibilities are met.
All actions taken by the Board should align with FirePony Creative Society's Vision and Mission Statement, which can be found here.
Contact the Board: board (at) firepony dot org.
Documentation and Transparency
All official Board documents, including Annual Reports, Incorporation Filings and Bylaws and be found here.
Meeting minutes, and Retreat reports can be found here.
The FirePony Creative Society Board of Directors:
(as of June, 2023)
Diana "Smiles" Svendsen – President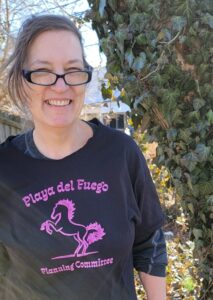 Email: smiles at firepony dot org Pronouns: She/Her/Hers
Smiles lost her burn virginity at PDF Spring 2011, after learning that regionals exist and that one existed in her home state of Delaware. She has been a loyal backfielder ever since. Throughout the years, Smiles has served the community in many ways, including TCO for Camp Tasty, Art Grant Winner for Pigment of the Imagination, Parking Coordinator, Volunteer Coordinator, Communications Coordinator, and now Board Member, where she spearheaded the amazing team that created VDF, held in Memorial Day weekend 2020. Smiles was elected Board President in January 2023. Smiles has a natural talent for driving golf carts through mud and wrangling virgins to work parking on Friday night.
Second Term ends December, 2025
David Wilkes – Vice President
Email:
David at firepony dot org
Pronouns
: He/Him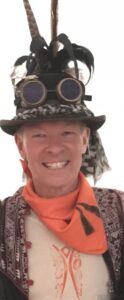 Below, some excerpts of Dave's thoughts from his BOD application:
"I'm excited about furthering my exploration of just what Playa del Fuego and Constellation means to me. I have more experience in the National Program than the Regional, but I believe the real future of the success or the Burningman Project is in the hands of the Regional events."
"I've tried and enjoyed both PDF and Constellation. PDF with wife and now grown daughter and her fiancé (a blast). For Constellation, I attempted my solo voyage, but was thwarted when I arrived to find 799 friends there."
"PDF and Constellation have the unique ability to grow large enough to have the best of both worlds. Big enough to be really cool, yet small enough to keep the intimacy. Located within a few hour's drive from maybe a fifth of the US population, and accessible by several airports, our region has wide breadth across which to share the Burningman Project to many, sharing fellowship and creativity across diverse peoples while practicing radical inclusion and civic responsibility in an enlightened and joyful way that impacts lives far beyond the playa."
First Term ends February, 2024
Miles "Mr. No/Know" Miner – Treasurer
Email: mails at firepony dot org Pronouns: He/Him/His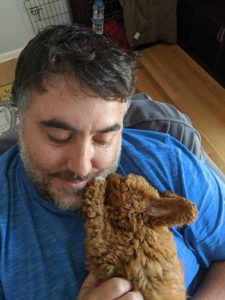 Miles is currently serving as the Treasurer of FPCS, putting his default-world Finance and Accounting expertise towards FPCS budgets, payments, taxes, and contracts. He has been burning for 10 years now, and he considers PDF his Home Burn. Prior to Joining the FPCS Board, Miles was a coordinator for City Planning/Placement for 5 years. Miles was integral to PDF's transition out of the Swamps of Sorrow, and into the Shale Hills of Drainage and Opportunity! You have probably seen him driving around this new location on a Thursday, mowing the lawn. Miles is passionate about organic gardening and using it to support food security, food justice, environmental regeneration, and community. Between his home garden and the community garden he heads up at his workplace, Miles donates thousands of pounds of fresh organic produce across Chester County, PA each growing season. Miles also enjoys live music, and his favorite band is The Disco Biscuits. He lives with his lovely and patient wife and new puppy. While you may have heard recent controversy about the pup amid claims he is "too cute to be real," Miles dismisses these claims and implores the public "don't believe everything you hear on the Playa!"
Second Term ends December, 2025
Alex "Whatever" Cramer – Assistant Treasurer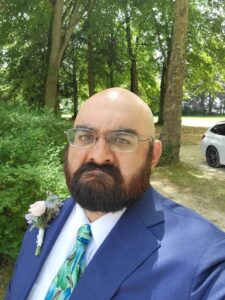 Email: Whatever at firepony dot org Pronouns: He/Him 
Whatever has been burning for a decade, coordinating Lamplighters at the FirePony burns for the past five years, and working odd volunteer shifts with other departments in both BRC and at our local burns when the mood strikes him. He loves lamp, but is looking forward to taking on some less lamp-centric tasks in support of Constellation and PDF
First term ends September 2025
Kelly "Lotus" McMahon – Secretary
Email: Lotus at firepony dot org Pronouns: She/They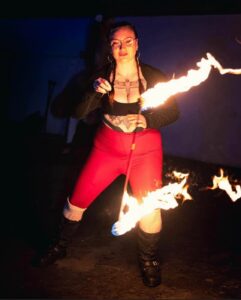 Kelly joined the regional Burning Man community with Playa del Fuego being her first burn in the fall of 2015.
Since then, she has been to multiple regionals in the area, made it out to the desert, and volunteered with most of the departments including becoming a Black Rock Ranger in 2022. She is also a fire spinner and has performed with Burning Man Fire Conclave. Having served on the board of trustees for another community, she is excited to bring her skills, knowledge, and support to the regional Burning Man community. She  currently resides in Philadelphia, PA where she hopes to spearhead more community events there.
First term ends September 2025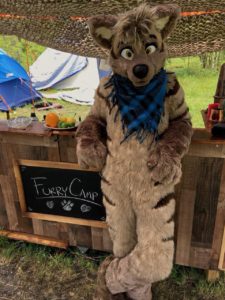 Christopher "M4" Venghaus 
Email: m4 at firepony dot org Pronouns: He/Him/His
After attending his first Playa Del Fuego in 2007, Christopher has wanted nothing more than to help support the event in hopes that it could ignite the same fires in people's hearts that it lit in his own. He was voted onto the Board of Directors in November of 2018 and currently heads the Technology Committee.
Christopher (aka "m4") lives in California with his partner in a tiny apartment outside San Francisco and enjoys spending his weekends rock climbing, backpacking, and bartending at parties for folx who dress up in animal costumes. He's a hyena, FYI.
Second Term ends November 2024
Aye "Ā" Rogers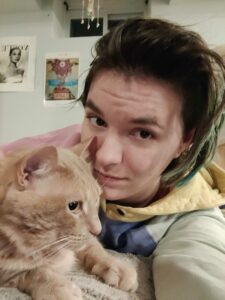 Email: Aye at firepony dot org Pronouns: They/Them
Non binary, queer, and activist. They've been volunteering with PDF and Constellation since 2019 as a Gate co-coordinator.
First term ends September 2025
Branden "Wax" Hall
Email Wax at firepony dot org Pronouns: He/Him
Wax has been burning since 2011 and loves dragging his big, strange LED creations to the playa. He served as Rangers Lead for the last two PDFs. He is looking forward to further supporting FirePony Rangers from the board level as well as helping to improve the technology we use to plan and run burns.
First term ends September 2025
"Bucky" Tate

Photo coming soon. Email Bucky at firepony dot org Pronouns: He/Him
Bucky is currently the PDF City Planning coordinator and looks forward to bringing his experience and skillset to the board to assist in order to make FirePony events even better!
First term ends September 2025
PJ "Hatter" Linke
Email Hatter at firepony dot org Pronouns (He/Him)
Hatter attended his first PDF in 2006 and has only missed 2 since. After a couple years volunteering in various roles, Hatter found a place at the gate, which at the time was ticketing, parking and greeting. After a few years he transitioned to website and communications. Hatter is excited to be a part of the BOD and to be able to contribute to the Org as a whole instead of just PDF.
First term ends September 2025
Peanut Buttercup Rogers
Pronouns: He/Him/Mr.Man
Peanut is a very introverted young man, at just 5 years old he has joined the Fire Pony Board. His biggest ambition is to bring more feather toys to the Burn, to spread the joy of adopting shy cats, and the importance of Friskies Treats. He heads up our Crawfish Conservation Division (CCD). Peanuts roles include hoarding the crawfish for himself and advising where we can place our coolers for maximum crawfish safety.
First term ends September, 2025
BOARD RESPONSIBILITIES AND EXPECTATIONS
FirePony Creative Society board members, like all of our event coordinators, producers, and artists, are volunteers.
Board members are expected to be actively engaged in the day-to-day activities of the organization year round. Board members are not directly responsible for planning FPCS events, Playa del Fuego and Constellation, though board members will frequently take on leadership roles for each of these events. Nevertheless, due to their fiduciary duty to the organization, board members will step in when necessary, or when the sustainability of the organization or safety of the participants may be impacted.
Serving on the FPCS Board of Directors is both a serious responsibility and a unique opportunity for personal and professional development. And believe it or not, it can be a lot of fun!
We expect FPCS board members to agree to meet the following expectations:
Be familiar with board meeting minutes, organization bylaws, and annual reports prior to joining the team
Board meeting minutes can be found here: https://firepony.org/about/board-meeting-minutes/
Financial reports can be found here: https://firepony.org/about/financials-and-reporting/
Sign an annual contract agreeing to duties and expectations
Agree to have your full real name listed on the FirePony.org website
Dedicate a minimum of 12 – 24 hours per month to board and FPCS activities
Commit to a 3 year term. Can be renewed for a maximum of a 6 year term<
Prepare for and attend monthly board conference calls
Prepare for and attend committee meetings, including but not limited to Planning Committee for PDF and/or Planning Team calls for Constellation (at least one BOD member per call)
Cast votes on important FPCS organization and governance matters as necessary.
Attend the annual board retreat
Read and participate in all board communications in a timely manner, within 24 hours, unless on vacation
Use online tools and resources to communicate, manage tasks, and stay current on goings on between meetings
Actively serve on a minimum of two committees, representing the board
Work on additional projects outside of meetings
Notify fellow Board members should I not be able to attend to my Board responsibilities due to any reason as soon as possible.
Be active in strategic planning for short and long term goals
Participate in interviews for all board member nominees
Serve as an ambassador for FPCS organization in your local communities