Mid-Atlantic Leadership Conference 2023
When: Friday, April 21 – Saturday, April 22, 2023
Where: Old Town Alexandria, VA (Address will be sent to registered attendees)
Cost: $70
Estimated Attendance: 30-50
Tickets: Ticket sales are closed.
Contact: Questions? Email malcplanning (at) gmail dot com.
Conference Overview
In November 2016, the first MALC welcomed 30 Burning Man and local community leaders from around the region to share ideas and best practices, and to inspire and learn from each other at the Keegan Theatre in Washington, DC.
In April 2018, MALC more than doubled in size, welcoming more than 100 community members to Creative Labs in Baltimore, MD.
Five years later, as our community continues to emerge and heal from the effects of a global health and economic crisis, we are excited to host the third MALC in Old Town Alexandria, VA.
MALC 2023 will consist of 1.5 days of programming designed to promote lively discussion and information sharing among current and prospective Burning Man Regional Contacts, board members, producers and department leads of Regional events, theme camp leaders, other Burning Man and local community leaders, as well as artists who are interested in building art for Regional events and/or their local communities.
FirePony Creative Society (FPCS)* is proud to be the sponsor for MALC 2023, and we are particularly grateful to Dave Wilkes, a member of the FPCS board of directors, for hosting this event.
*FirePony Creative Society is the trade name for Playa del Fuego, Inc.
Is MALC right for me?
MALC is for anyone who is leadership-curious, ready to take their leadership skills to the next level, or comfortable in their leadership skin and ready to share their knowledge. Side effects may include an increased feeling of belonging to a global community, big and crazy dreams, and an uncontrollable impulse to make the world around you more awesome.
Conference Objectives:
Explore the global impact of Burning Man and how we, as individual community leaders, fit into the larger picture.
Discuss the specific successes and challenges we have and continue to face as a Burner community in the Mid-Atlantic Region.
Discover just-in-time skills, tools, and resources  from our Burn community that can be used to foster, grow, and support our local communities.
Conference Schedule
Friday, April 21st:  Conference attendees gather at 5pm for dinner, introductions, and a lively discussion to kick off the event followed by a cocktail hour.
Saturday, April 22nd:  Breakfast will begin at 8:30am, and programming will begin at 9:15am and run until 5:30pm. Lunch will be provided. Conference attendees are invited to attend a private party on site that evening.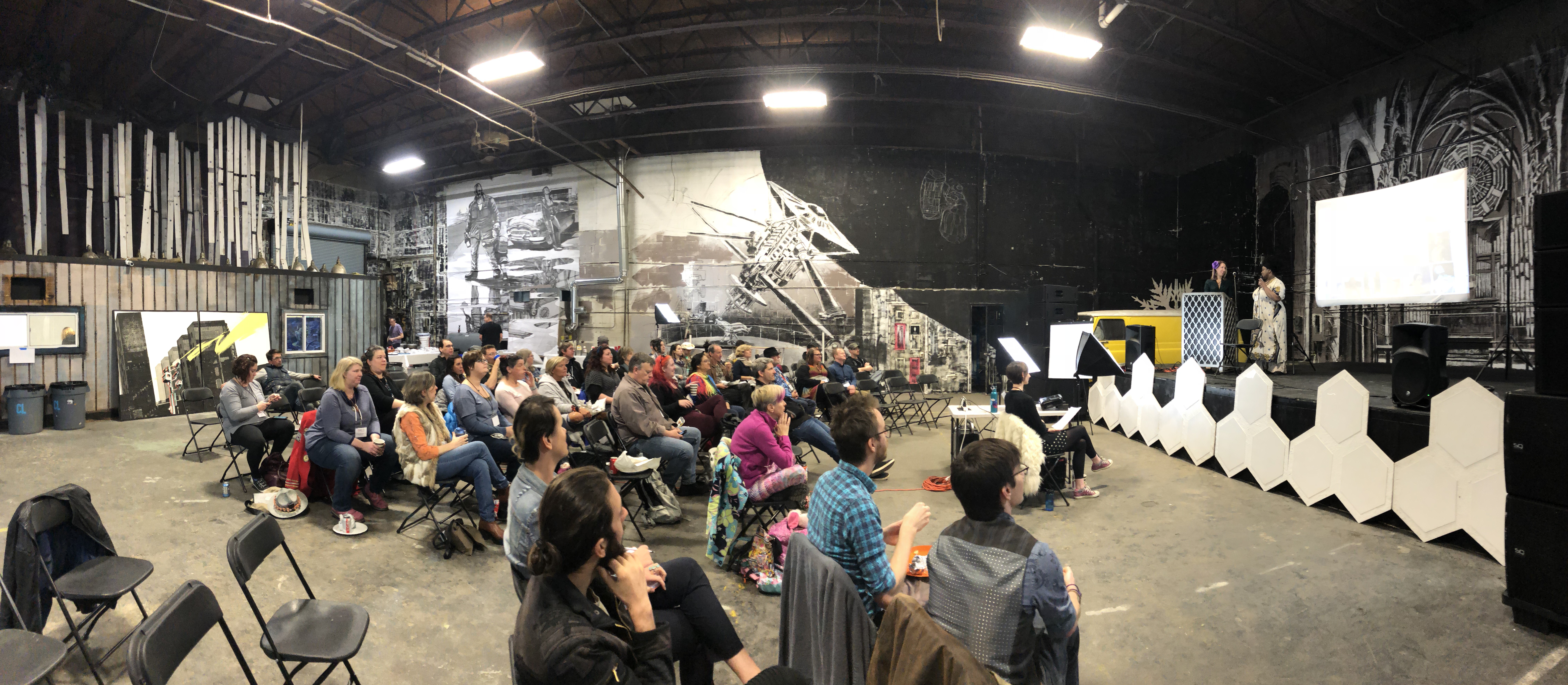 MALC 2018 at Creative Labs in Baltimore, MD
Workshop Topics
This year's MALC workshops are shaping up to be compelling, inspiring conversations that we hope will motivate you to tackle that next big idea. We'll continue to update the descriptions below as they're finalized, so check back soon for more information!
Keynote: Igniting a Flame: A Case Study in Building a Resilient, Thriving and Creative Burner Community Presented by Beau Turner. This talk will delve into the evolution of a burner community created over the past seven years in Norfolk, Virginia. Beau will discuss some of the many, shifting challenges this growing community has faced, including how it continued to provide a space for dreamers to design, make and create together during a pandemic, and share some of the strategies, approaches used and lessons learned along the way.
Developing Leaders by Understanding Space, Place, and a Sense of Belonging. Presented by Fiona Elouise.

People give their time and talent in the burner community for many reasons. Understanding the ways that volunteering can enable growth allows us to recruit and retain volunteers and leaders at all levels, benefiting our community, our teams, and the humans who comprise them.

What does the Burning Man Regional Network Mean to You? Facilitated by Patty Simonton. The Burning Man Regional Network means different things to different people. What does it mean to you? During this session, learn more about Burning Man's 25 to Thrive effort and share your thoughts as the 25 to Thrive team prepares to co-create a vision and identify operational and strategic priorities for the Network's next 25 years.
Building a R.I.D.E Toolkit. Presented by Millie McMillan. In this session, we will discuss resources and ideas to support efforts to improve radical includion, diversity, equity and justice as individuals, at events, in the burner and local community and beyond. Topics included as part of the discussion will include micro-agressions, understanding privelege and systems of power, understanding gender identity and more.
Writing Success Art Grants for Burning Man, Regionals, and Your Local Community and Beyond. Presenter Christina Fletcher. This highly participatory workshop is designed to develop skills and knowledge about writing an art grant and managing a project. We will consider strategies for incorporating the ten principals into all phases of the process. Participants with all levels of experience (and half-baked art project ideas) are welcome to attend.

Civic Engagement and Community Art Grant Decision Workshop: Facilitated by Millie McMillan. The FirePony Creative Society* Community Art and Civic Engagement (CACE) grant program seeks to fund highly interactive, innovative, community-driven projects and works of art which prioritize community involvement as part of the development, creation and presentation or execution. Through this workshop, Millie will invite participants to review the submissions for this round of CACE Grants and work collaboratively to decide where to distribute the grant awards.
Community Art and Civic Engagement Grant Application

The Mid-Alantic Leadership Conference is thrilled that we've been allocated $1500 to distribute a FirePony Creative Society Community Art and Civic Engagement grant. Applications for this opportunity must be submitted by 5pm ET on Tuesday, April 18th.
The CACE grant program was heavily influenced by Burners Without Borders' Civic Ignition Grant. To this end, the CACE grant program funds projects and art that prioritize community involvement in the development and creation, and demonstrates a sustainable impact.
Examples of community based projects are park cleanups, feeding the hungry, or public art education. CACE also funds community-based art ideation, creation and installation.
We encourage applicants from all around the mid-Atlantic region to submit their ideas for review. The winners of this grant will be selected during a workshop at the MALC.
IGNITE the Mid-Atlantic Leadership Conference!
We want to hear about the great work you're doing in your communities. What excites you? What inspires you? Tell us about your art projects, your civic engagement projects, and how you kept the burner energy alive over the last three years.
Each IGNITE presentation can last up to 5 minutes and include no more than 20 slides.
** Please Note: MALC, IGNITE series / presentation, and FirePony Creative Society are not affiliated with Ignite! Burn.
Mid-Atlantic Leadership Conference Planning Team
Event Producers: Patty Simonton, Millie McMillan, Kelly "Lotus"  McMahon
Conference Planning Committee: Laura Staruk, David Wilkes, Lizzy Martin, Ursula Sadiq, Christopher "M4" Venghaus
Accommodations
We have arranged with two nearby hotels to reserve 10 rooms each for us at a reduced rate.  *** Rooms must be reserved by April 7th. ***
The Sheraton Suites is within walking distance of our meeting venue and the Alexandria harbor area, as well as several shopping/eating options.  Rooms are $230 per night, with a $30 per night parking fee.
The Holiday Inn is about 2 miles from the meeting venue.  It is at the Eisenhower Ave. metro stop and also within walking distance of shops and restaurants (the hotel itself also has a nice bar and restaurant on site).  Rooms are $170 per night with no additional parking fee.  A rideshare to the venue will cost about $15.
Additionally, Burner BnB is a run by a local burner here and is a great way to find a place to stay in the area.  Find them on Facebook.
We will also provide assistance for those who would like to find a place to stay by other means.  Email us at malcplanning@gmail.com if you'd like a place to stay or if you are local and can provide a place.
Getting There
MALC will be located near the corner of Queen St. and North Fairfax St. in Old Town Alexandria, Virginia. We'll send out the exact address to registered attendees. 
There are two metro stations within a mile walking distance, King Street and Braddock Road. Public transportation is also available from both metro stations, each taking approximately 15-20 minutes by bus.
If you're flying in, the closest airport is Reagan National Airport (DCA), accessible via metro and bus (20-30 minutes). Alternatively, Dulles Airport (IAD) is connected via the Silver line, and the trip will take about 90 minutes.
Additional information for plot a route using public transportation can be found on the WMATA website (or google maps)
MALC 2023 Scholarship Fund
Help us ensure that everyone who wants to benefit from this great event can attend! If you have the means to contribute an extra $10 or $20 to the scholarship fund, we encourage you to do so. All funds will be used to help participants and speakers to attend MALC. 
Participants and speakers granted a MALC 2023 scholarship will purchase their tickets at the discounted price of $45. Please contact us if you would like to request a MALC 2023 scholarship. Applications are confidential and will not be shared or distributed outside of the MALC 2023 Planning Team.