Mid-Atlantic Leadership Conference 2023
When: Friday, April 21 – Saturday, April 22, 2023
Where: Old Town Alexandria, VA (Address will be sent to registered attendees)
Cost: $70
Estimated Attendance: 30-50
Tickets: https://tickets.firepony.org
Contact: Questions? Email malcplanning (at) gmail dot com.
Conference Overview
In November 2016, the first MALC welcomed 30 Burning Man and local community leaders from around the region to share ideas and best practices, and to inspire and learn from each other at the Keegan Theatre in Washington, DC.
In April 2018, MALC more than doubled in size, welcoming more than 100 community members to Creative Labs in Baltimore, MD.
Five years later, as our community continues to emerge and heal from the effects of a global health and economic crisis, we are excited to host the third MALC in Old Town Alexandria, VA.
MALC 2023 will consist of 1.5 days of programming designed to promote lively discussion and information sharing among current and prospective Burning Man Regional Contacts, board members, producers and department leads of Regional events, theme camp leaders, other Burning Man and local community leaders, as well as artists who are interested in building art for Regional events and/or their local communities.
FirePony Creative Society (FPCS)* is proud to be the sponsor for MALC 2023, and we are particularly grateful to Dave Wilkes, a member of the FPCS board of directors, for hosting this event.
*FirePony Creative Society is the trade name for Playa del Fuego, Inc.
Is MALC right for me?
MALC is for anyone who is leadership-curious, ready to take their leadership skills to the next level, or comfortable in their leadership skin and ready to share their knowledge. Side effects may include an increased feeling of belonging to a global community, big and crazy dreams, and an uncontrollable impulse to make the world around you more awesome.
Conference Objectives:
Explore the global impact of Burning Man and how we, as individual community leaders, fit into the larger picture.
Discuss the specific successes and challenges we have and continue to face as a Burner community in the Mid-Atlantic Region.
Discover just-in-time skills, tools, and resources  from our Burn community that can be used to foster, grow, and support our local communities.
Conference Schedule
Friday, April 21st:  Conference attendees gather at 5pm for dinner, introductions, and a lively discussion to kick off the event followed by a cocktail hour.
Saturday, April 22nd:  Breakfast will begin at 8:30am, and programming will begin at 9:30am and run until 5pm. Lunch will be provided. Conference attendees are invited to attend a private party on site that evening.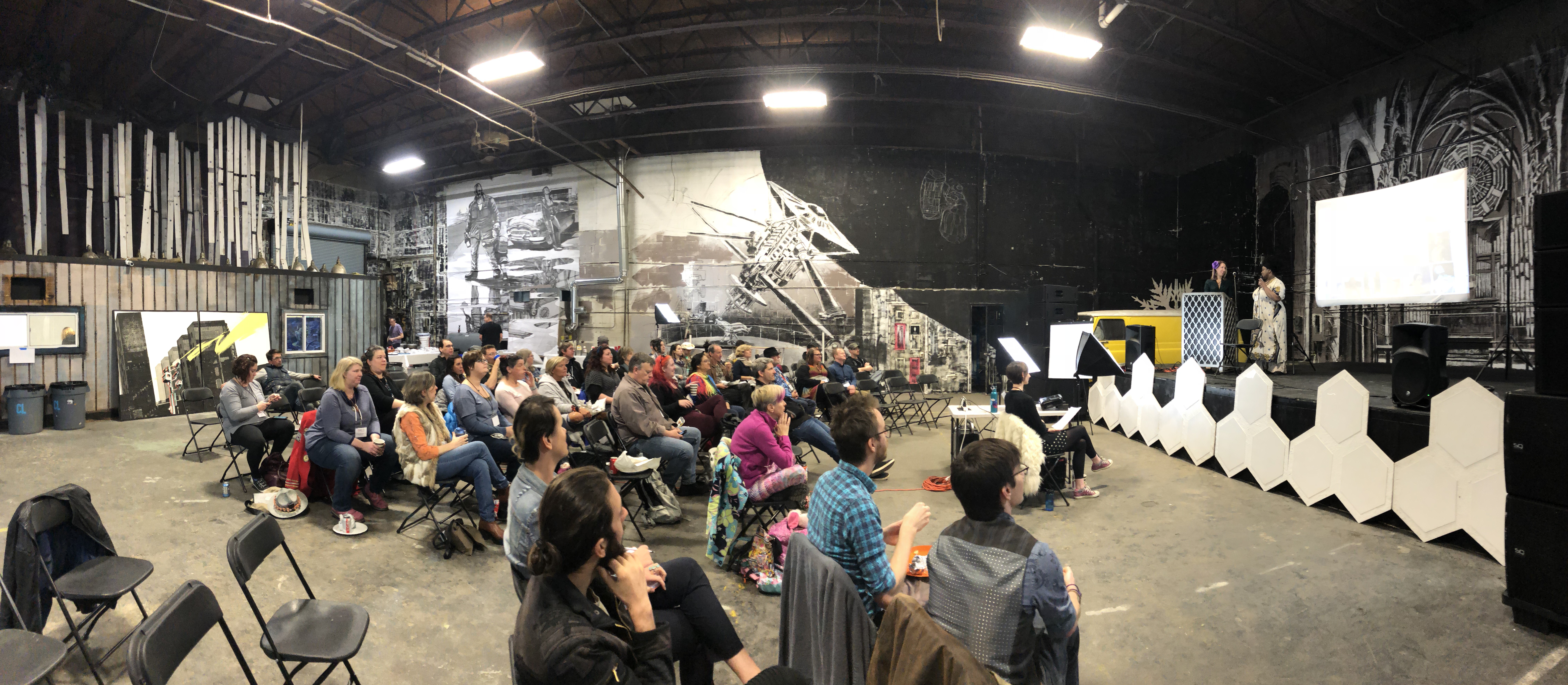 MALC 2018 at Creative Labs in Baltimore, MD
Workshop and Plenary Topics
Stay tuned for details. Those who register early will be invited to help shape program content.
IGNITE the Mid-Atlantic Leadership Conference!
Conference participants will be invited to submit content for this year's IGNITE series. Each IGNITE presentation lasts five minutes and includes no more than 20 slides. Learn more about the IGNITE style here.
Please Note: MALC, IGNITE series / presentation, and FirePony Creative Society are not affiliated with Ignite! Burn.
Mid-Atlantic Leadership Conference Planning Team
Event Producers: Patty Simonton, Millie McMillan, Kelly "Lotus"  McMahon
Conference Planning Committee: Laura Staruk, David Wilkes, Lizzy Martin, Ursula Sadiq, Christopher "M4" Venghaus
Accommodations
Participants are invited to arrange their own sleeping arrangements. The MALC team will be providing details about hotel blocks shortly.
MALC 2023 Scholarship Fund
Help us ensure that everyone who wants to benefit from this great event can attend! If you have the means to contribute an extra $10 or $20 to the scholarship fund, we encourage you to do so. All funds will be used to help participants and speakers to attend MALC. 
Participants and speakers granted a MALC 2023 scholarship will purchase their tickets at the discounted price of $45. Please contact us if you would like to request a MALC 2023 scholarship. Applications are confidential and will not be shared or distributed outside of the MALC 2023 Planning Team.